Everything started a year ago…While we were in one of our enrichment activities in Spain our group of students asked for flamenco lessons back in Bedford!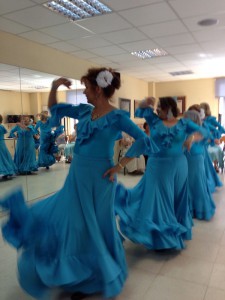 Back home we contacted Claire, La Fresa Flamenca, and since then two groups of students have learnt this type of Spanish dance.
Last Saturday night, as a grand finale we offered a " palma"workshop with tapas and paella. In this workshop we learnt different   Spanish rhythms and after that we all danced sevillanas, that is a dance from Seville, in the South of Spain.
We had Timothy Pearson, our guitarist, and Claire Astbury, our flamenco teacher. Everyone had a fantastic time!
Thank you to everyone who made this happened!