Navarra is one of the oldest of the kingdoms that make up Spain. It has a wonderful mix of history and nature, not to forget the food. Just before New Year, BLC spent a few cold days in a foggy Navarra to inspect the area and scout out the Bodegas.
Foz Arbayun is the biggest gorge in Navarra. A great introduction to the Spanish Pyrenees, it will stay on the itinerary, with some spectacular scenery and "buitres Leonado".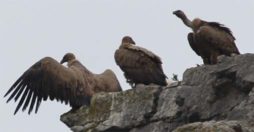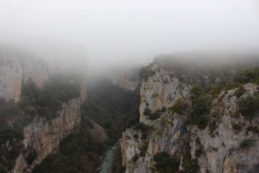 The area is home to a number of monasteries and classic Romanic churches. Having looked at a number of these, a trip to the foothills of the Pyrenees led to a combination of the two. A night in the monastery of Leyre, known for its services with Gregorian chants. This will give the opportunity to listen to these in both an evening and a morning service.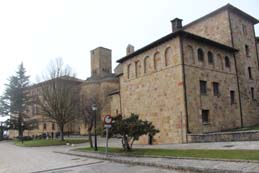 The area also has unspoilt medieval hilltop towns such as Ujue with its beautiful church and views of the Pyrenees.

The plan is also to fit in a visit to Pamplona, famous for its bull running. Here you can follow the route the bulls take, or have a coffee in the cafe frequented by Hemingway. As always there is more, such as the fortifications and the bars with the typical pintxos.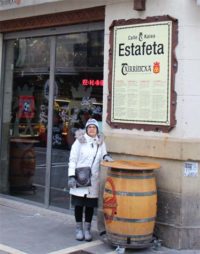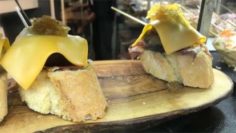 And so to Olite. This was the main residence of the kings of Navarra. The palace is notable for the several towers. Apparently there are views. In December the fog hid these! With its small unspoilt medieval centre Olite is a pleasant place to pass the time. We investigated some Bodegas to find one for a tasting but even the losers in this competition have wines that are worth trying and can be found both in the town's bars and restaurants as well as in the bodegas and their associated shops.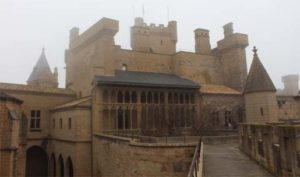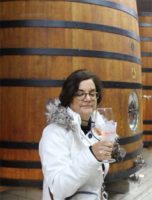 We don't only think about wine! The nearby area of the Roncal Valley is famous for its cheese, Ujue is known for its caramelized almonds and we also found a seller of local honeys.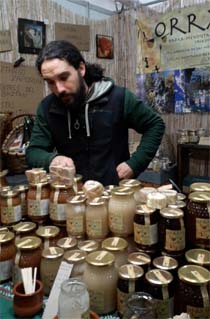 A visit to the Bardenas Reales, one of Spain's deserts, showed it to be interesting but we will leave it for another trip as this won't be the best time of year to visit.
Lots to investigate, great people to talk with!