Our trip to Cádiz
BLC has run trips to Madrid where the emphasis has been to learn about Spanish everyday life & speak Spanish while living with Spanish families. We think that now is the time to try something a bit different, to show the culture of a different area. With this idea BLC went on an arduous exploration of some of the places around Jerez to see if this could be a popular destination.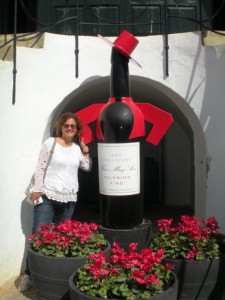 Jerez de la Frontera:
Jerez is the centre of production of Sherry. With this in mind we felt it was necessary to investigate. One of the most famous producers is Gonzalez Byas, producer of, among other types, Tio Pepe Fino. The tour of the Bodega gives information about the history of the company and some information about the production.
We tried to remember that there is more to Jerez than sherry and visited the Alcázar, the Moorish palace. Not so well preserved as the Alhambra of Granada or Los Alcázares of Seville, it is still interesting, with information about olive oil pressing and the moorish baths.
Sanlúcar de Barrameda:
Another stopping point was Sanlúcar, the starting point for Columbus and Magallanes. San Lúcar is the D.O. for Manzanilla (not the tea!). Thus we needed to visit the Barbadillo Bodega to learn the difference.
Sanlúcar is also the start point for safaris to the Doñana National park.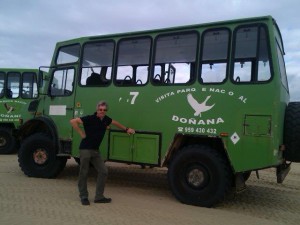 This National park was created in 1969 and it is one of Europe's most important wetland reserves and a major site for migrating birds. It is an immense area; the parque itself and surrounding parque natural or Entorno de Doñana. The trip involves a crossing of the Guadarquivir river. There is the chance to see animals on the river's edge as the boat travels upstream to the landing point.The tour shows the different ecosystems. The driver gave a good commentary with interesting anecdotes and hi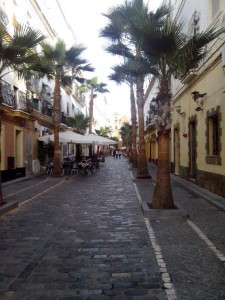 story.
Arcos de la Frontera:
The region is also famous for its "pueblos blancos". We visited one to see how these are. Arcos de La Frontera, like Jerez was a border town at the time of the expulsion of the Moorish empire. This is a town of narrow streets, cobbles and steep roads. With picturesque houses and magnificent views.
Cádiz:
An important Spanish Naval city from the days of sail, Cádiz is on a promontery with the old town filling the end.
There is so much History in this area! Definitely we have to go back to find out more about the History and wine!